Food Personal Checks
Bust out some tasty food treats every time you write a check! Order food and beverage theme personal checks online in a variety of tasty styles. From main courses to savory desserts and candies, to sodas and after-dinner drinks, we've got the perfect food check design for anybody who loves to cook and eat.
---

Food Face Checks
4 different images of funny faces on a plate composed of breakfast ingredients, fruits, vegetables, and BBQ foods.
---

What Is Cookin Personal Checks
These guys are getting bizzy in the kitchen! If you are a chef or just someone that likes to eat or make a meal, share What Is Cookin Personal Checks each time you open your checkbook or write out a bank check!
---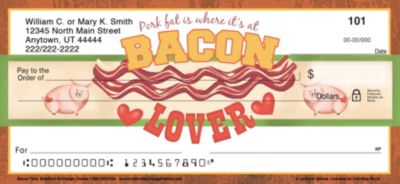 Bacon Lover Personal Checks
Captions include "It's Always BACON TIME... Just wrap me up in Bacon", "BACON LOVER... Pork fat is where it's at", "BACON COUNTRY - Land of the Thick... or Thin", "I AM BACON ROYALTY... Show me the Bacon!".
Matching bacon time address labels are also available.
---

Sweet Treats Personal Checks
Whimsical illustrations of bakery treats. 4 different captions including "P.M.S. ~ Provide Me with Sweets", "Man Cannot Live on Sweets Alone, but A Woman sure can!", "Eat More Cake", and "A Party Without a Cake is Just A Meeting".
---
Choose from the menu at top right of page for many more food themed personal check designs!