Breakfast Food Checks
Order Breakfast personal check designs online in a variety of tasty styles. These Breakfast Food bank checks can be used with any U.S. bank account. Serve up some images of bacon and eggs, cereal, and other breakfast goodies every time you write a check!
---

Breakfast Food Checks
The artwork on these checks pays tribute to your favorite meal with images of cereal and waffles. Order today and save!
---

Country Breakfast Checks
Remind yourself to start the day of with a hearty breakfast by picking these personal checks!
---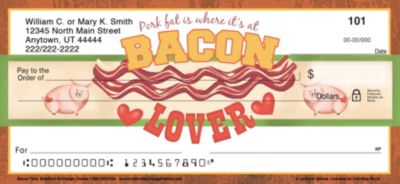 Bacon Lover Personal Checks
Fry up some food comedy that's perfectly cooked for bacon lovers everywhere when you use these humorous pig checks from Bradford Exchange. This set of checks features four different bacon themed word art designs by artist Lori Lynn Simms, with bacon strip borders on each design. Captions include "It's Always BACON TIME... Just wrap me up in Bacon", "BACON LOVER... Pork fat is where it's at", "BACON COUNTRY - Land of the Thick... or Thin", "I AM BACON ROYALTY... Show me the Bacon!".
Matching bacon time address labels are also available.
---