Candy Checks
These candy personal checks offer an exciting range of yummy candies to entice your sweet tooth. Order Candy theme check designs online in a variety of tasty styles. These Candy checks can be used with any U.S. bank checking account.
---

Hard Candy Fun Personal Checks
These swirly delights will instantly bring out the inner child! This series of four will instantly bring you to that world surrounded by candy and bright colors and possibilities! Colorful pin wheel candies and imagination go hand in hand!
---

Candy!
They will leave the sweet taste lingering on your mouth every time you write a check. The candy personal checks also come with complimenting address labels with colorful designs like sugar-sprinkled candies, star shapes, cotton cloud candies, half moon shapes and more. Check out the colored candy personal checks to share your craving. Feast your eyes on the crisp candies to complete your candy extravaganza.These candy checks also have a high quality to make sure that the standard of service maintained is high.
---

Kid Candy Checks
Sweet treats that were fun as a kid are still great today. See them on these cool personal checks!
---

Gumdrops and Jelly Rings Personal Checks
Sugary sweet...
---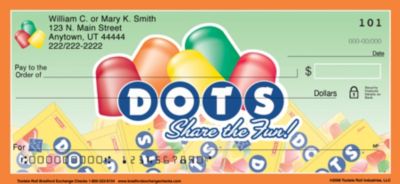 Tootsie Roll and other Classic Candies - 8 Images
Got a sweet tooth? Satisfy your candy cravings with Tootsie Roll check designs from Bradford Exchange Checks! Six different designs showcase the logos of your favorite treats and bring back plenty of nostalgic fun. There are Dots, Junior Mints, Sugar Daddy, Charleston Chew, and Tootsie Roll POP personal checks. Plus, there are two terrific Tootsie Roll check designs - the classic Tootsie Roll logo, and a nostalgic What's Up Toots? And they're all delightfully delicious ! You'll also enjoy the fact that your Tootsie Roll check designs are just as practical as they are fun. Brought to you exclusively by Bradford Exchange Checks, each is expertly re-created with premium-quality check printing. We've made it easy to order online, so hurry! It's time to get your Tootsie Roll checks - order now! Pricing shown is for 2 boxes of Singles.