Chocolate Checks
Show your obsession for sweet chocolate treats every time you write a check! Order Chocolate personal check designs online in a variety of tasty styles. These Chocolate bank checks can be used with any U.S. checking account. Checkbook covers and address labels are also available to match most of these chocolate check styles.
---

Chocolate Lover Personal Checks
Your mouth will water when you see the illustrations of delicious chocolate on these cool personal checks!
---

Box of Chocolates Checks
This mouth-watering check design features all sorts of delectable chocolate candies. Get yours today!
---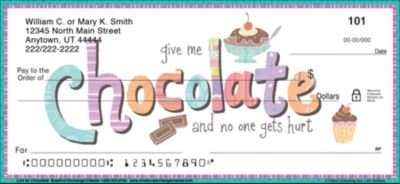 Live for Chocolate Personal Checks
Four delectable designs feature humorous sayings about chocolate presented in the colorful visions of artist Lori Siebert. Designs include "Give me Chocolate and no one gets hurt", "Chocolate is cheaper than therapy", "Too much Chocolate is just enough" and "A balanced diet is Chocolate in both hands".
---

Chocolate Obsessions Checks
Indulge your obsession with these chocolate lovers personal checks. You can keep that same feeling of joy when you receive a box of chocolates with you all day long, right in your checkbook! Matching address labels and coordinating accessories available.
---

Chocolate, It's All Good
Fall into your temptation and get these delicious personal checks! Perfect for all chocolate lovers, this series of four show beautiful milk and dark chocolate. Just waiting for you to indulge! Matching address labels and coordinating accessories available.
---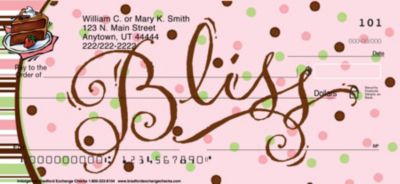 Indulgence Personal Checks
You really can have your cake and eat it too! Satisfy your craving for all things delectably decadent with the "Indulgence" dessert check designs exclusively from Bradford Exchange Checks! Four delicious designs shamelessly showcase your favorite yummy desserts set against whimsical backgrounds of candy pink, mint green and, yes, chocolate brown, each highlighted by a single one-word-says-it-all sentiment. There's a chocolate sundae ("Delicious!"), chocolate cake ("Bliss!"), a chocolate-covered strawberry ("Decadent"), and a chocolate truffle ("Indulge!"). Words to live by, right?
---

Fantasies In Chocolate Personal Checks
Chocolate Personal Checks - Indulge in your fantasy. Chocolate fantasy that is! Let your love for caramel, peanuts, and all things chocolate find its way into your checkbook.
---