Coffee Checks
Order Coffee personal check designs online in a variety of tasty styles. These Coffee bank checks can be used with any U.S. bank account.
---

Coffee Lovers Checks
You don't need to go to your favorite coffee shops to get a cup of fancy joe. These four delicious designs will keep your energy up throughout the day. Warm up with these caffeinated personal checks!
---

Coffee Mugs Close Up Checks
You can really grab your favorite cup of Joe with these personal checks! Four up close photographs of coffee mugs will get your energy up and you head out to buy your morning brew.
---

Coffee Stains Personal Checks
We all know coffee is delicious but who knew it could be art, too? Coffee stains in varying sizes and shades of brown comprise the unique abstract design in this collection. Give your checkbook a caffeine boost with these stylish personal checks.
---

Fair Trade Coffee Checks
This unique design features coffee bean illustrations on burlap sacks. Click to see them now!
---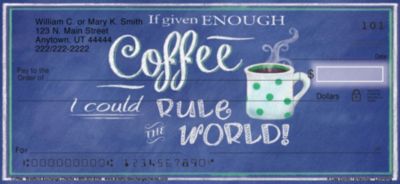 Coffee Talk 4 Quotes
Drink up Some Humor Along with Your Love for a Great Cup of Joe with Coffeehouse Checks - Morning, noon or night-nothing is more enjoyable than love, laughter and lots of strong coffee. Now, share a few laughs and your need for caffeine when you use these humorous coffee checks from Bradford Exchange Checks. Showcasing the chalkboard-style artwork of Lisa Conlin, four unique designs are paired with funny sentiments. Designs include This HOUSE runs on Love, Laughter, and lots of Strong Coffee , My Cup of Enlightenment Served Daily , Coffee makes anything possible and If given ENOUGH Coffee I could Rule the World! .Plus, you'll find these humorous coffee personal checks are just as practical as they are clever. Brought to you exclusively by Bradford Exchange Checks, they're expertly re-created with premium-quality check printing. Don't miss this beautiful opportunity - get your delightful coffee checks as soon as possible! Order now!