Cooking Checks
If you are a chef or just someone that likes to eat or make a meal, share your love of cooking each time you open your checkbook or write out a bank check! Order Cooking theme personal check designs online in a variety of tasty styles. These Cooking checks can be used with any U.S. bank checking account. Matching checkbook covers and address labels are also available to complement most of these cooking check styles.
---

Country Kitchen Checks
Travel back to a simpler time with these four personal check designs. Inspire to live a healthy, rustic life even if it is only in your kitchen.
---

What Is Cookin Personal Checks
These guys are getting bizzy in the kitchen!
---

Oil Infusions Checks
The contents of these stunningly curved glass bottles would enhance any gourmet chef's cooking shelf. Four different images.
---

I Love Food Checks
See if your favorite food is featured on these yummy personal checks! Click to view them now!
---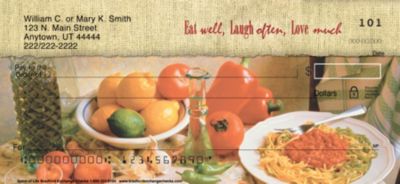 Cooking is...the Spice of Life 4 Images
A Visual Banquet - Many of the most memorable times spent with family and friends also involve delicious food prepared with love. Share your love for cooking with these Cooking Is...The Spice of Life personal check designs from Bradford Exchange Checks! With four dynamic designs, created specifically for cooking lovers, these checks feature images of meals, cooking spices and other ingredients as well as words of wisdom to delight the senses and inspire culinary creativity.Plus, you'll find these cooking-themed checks are just as practical as they are enticing. Brought to you exclusively by Bradford Exchange Checks, they're expertly re-created with premium-quality check printing. Don't put this offer on the back burner - get your Cooking Is...The Spice of Life checks as soon as possible! Order now! Pricing shown is for 2 boxes of Singles.
---