Corn Checks
Order Corn personal check designs online in a variety of tasty styles. These Corn checks can be used with any U.S. bank checking account.
---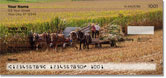 Corn on the Cob Checks
4 different images featuring illustrations of corn cobs.
---

Corn Checks
Golden, crisp and delicious - these checks pay tribute to America's largest crop! View them now!
---