Cupcake Checks
Busty out some tasty bakery treats every time you open your checkbook with these designer cupcake checks. Order Cupcake personal check designs online in a variety of tasty styles. These Cupcake bank checks can be used with any U.S. checking account. Matching cupcake checkbook covers and address labels are also available when you order any of these colorful cupcake check styles.
---

Colorful Cupcakes Personal Checks
Yummm...cupcakes...
---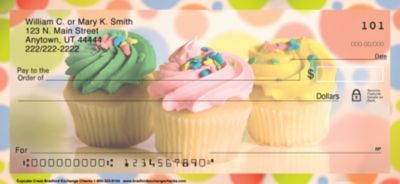 Cupcake Craze 4 Personal Check Images
You'll Always Have Time for a Tasty Treat with These Cupcake Craze Checks - There's always room for cake! And there's even more room for cupcakes! Now you can treat yourself to delicious cupcakes any day and every day with these Cupcake Craze checks from Bradford Exchange Checks! These scrumptious cupcake checks come in four different design varieties - chocolate or yellow cake - with sprinkles, flower decorations, and of course, they're topped with loads of frosting goodness! Your mouth will be watering every time you use them. And you're sure to spread delicious smiles when you share these cupcake designs with others. Plus, you'll find these cupcake checks are as practical as they are beautiful. Brought to you exclusively by Bradford Exchange Checks, they're expertly re-created with premium-quality check printing. Don't miss the chance to indulge in this calorie-free goodness - get your Cupcake Craze checks as soon as possible! Order now! Pricing shown is for 2 boxes of Singles.
---

Grandmas Cupcakes Personal Checks
Whimsically decorated cupcakes with a vintage-inspired look are the feature of this four check series. Each check features different cupcakes and has a unique pastel border. Enjoy these delicious calorie-free cupcakes with each check you write!
---

Baker Chick Personal Checks
We've whipped up a few delightfully delicious checks for anyone who loves to bake and has a sense of humor! You will love the cherry, chocolate and lemon flavors as well as the humor that is featured on each check in this irrestible three check series! Captions include Baker Chick, Cupcake Snob, and Treat Yo' Self.
---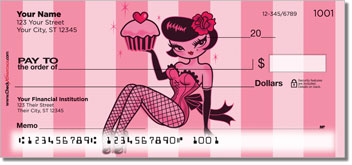 Miss Fluff Cupcake Girl Checks
4 retro pinup girl images. Matching cupcake girl address labels and checkbook cover also available.