Desserts Checks
Indulge yourself in a tasty treat every time you open up your checkbook! Order Irresistible Desserts personal check designs online in a variety of tasty styles. These Dessert checks can be used with any U.S. bank checking account.
---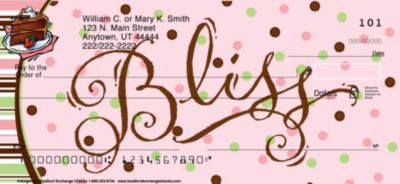 Indulgence Checks 4 Images
Don't Even Try to Resist these Delectable Dessert Check Designs - You really can have your cake and eat it too! Satisfy your craving for all things delectably decadent with the Indulgence dessert check designs exclusively from Bradford Exchange Checks! Four delicious designs shamelessly showcase your favorite yummy desserts set against whimsical backgrounds of candy pink, mint green and, yes, chocolate brown, each highlighted by a single one-word-says-it-all sentiment. There's a chocolate sundae ( Delicious! ), chocolate cake ( Bliss! ), a chocolate-covered strawberry ( Decadent ), and a chocolate truffle ( Indulge! ). Words to live by, right? Plus, you'll love the fact that these Indulgence personal checks are just as practical as they are enticing. Brought to you by Bradford Exchange Checks, each is expertly re-created with premium-quality check printing. So don't wait! Dig into Indulgence chocolate cake, sundae, strawberry and cupcake personal checks as soon as possible! Order now! Pricing shown is for 2 boxes of Singles.
---

Dessert Lover Checks
4 whimsical images of a lady at leisure with her cat.
---

Strawberry Shortcake Checks
Yummm...dessert shortcake... 4 scrumptious images.
---

After Dinner Checks
From a nice cigar to a snifter of brandy, these checks celebrate the finer things. Click to see them now!
---