Donut Checks
Order Donut personal check designs online in a variety of tasty styles. These donut-themed checks can be used with any U.S. bank checking account.
---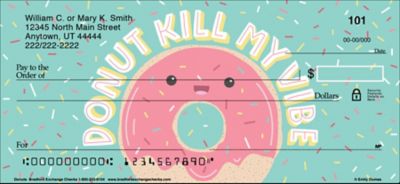 Donuts Personal Checks
Artist Emily Dumas gives dozens of donuts quirky personalities by adding funny faces to some of her colorful designs. The emoji-like patterns are paired with fun and sarcastic puns like, "Donut Kill My Vibe," "Donut Worry Be Happy," "Will Run for Donuts" and "Its Donut Time." And its okay to keep coming back for more…these popular dessert-inspired designs are sure to satisfy your sweet tooth without packing on the pounds! Why wait in line when you can go (do)nuts every day! Coordinating Donuts address labels are also available.
---