Fruit Checks page 6

Berrylicious Checks
Click to see a 'mixed berry' design of personal checks. Order yours right now!
---

Fruit Jam Checks
Click to order charming checks displaying four fruity, homemade jams. Get yours today with free shipping!
---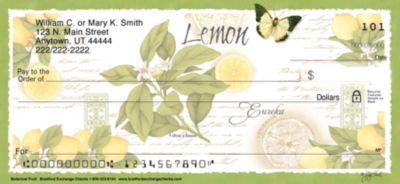 Botanical Fruits Checks
Classic Fruit Patterns and Butterflies by Artist Joy Hall - The artistry of Joy Hall is just as sweet as her subjects! Now, enjoy each day with the beauty of botany and the charm of butterflies with these botanical fruit checks from Bradford Exchange Checks. Four elegant designs showcase Joy Hall's delectable portraits of fruit including strawberries, lemon, lime and orange, each enhanced with a delicate butterfly posed by the fruit name. Faint backgrounds featuring the fruit's name in romantic languages along with other soft touches complete the presentation.Plus, you'll find these botanical fruit personal checks are just as practical as they are pretty. Brought to you exclusively by Bradford Exchange Checks, they're expertly re-created with premium-quality check printing. Don't miss this unique opportunity to carry the gifts of nature wherever you go. Get your Joy Hall checks as soon as possible! Order now! Pricing shown is for 2 boxes of Singles.
---

Citrus In Technocolor Personal Checks
Citrus Margarita Checks - Head over to Margaritaville and have some fun with these awesome, citrus themed personal checks! Fruity flavored with a hard tropical punch, pass on the party with nothing but your checkbook! Have some fun with these professionally designed and loudly rendered personal checks.