Ice Cream Checks page 2

Ice Cream Bars and Sof-Serv Cones
I scream, you scream, we all scream for ice cream. Or we will after looking at these Ice cream Personal Checks featuring delicious variations of frozen ice cream creations. Ice cream dates back to at least 400 BC in Persia but the Arabs are the ones who introduced dairy to these frosty frozen delights. Ice cream was widespread in many Arab cities as early as the 10th century. Let's scream for ice cream!
---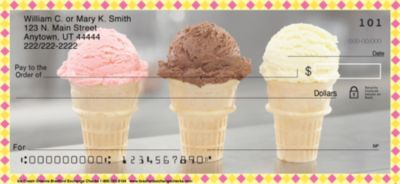 Ice Cream Dreams 4 Images Personal Checks
I scream, you scream, we all scream for ice cream! Wherever you use these ice cream checks, you'll get a delightful response! These Ice Cream Dreams personal check designs from Bradford Exchange Checks feature four dynamic designs that capture the essence of this favorite frozen treat. The ice cream images on these personal checks include ice cream cones, sorbets, banana split sundaes and more and are bordered in a colorful pattern, perfectly complimenting the featured dessert.Plus, you'll find these ice cream art checks are just as practical as they are tempting. Brought to you exclusively by Bradford Exchange Checks, they're expertly re-created with premium-quality check printing. Don't let this opportunity melt away - get your Ice Cream Dreams checks as soon as possible! Order now! Pricing shown is for 2 boxes of Singles.
---

Diet Busters Personal Checks
Have a sweet tooth? These dessert checks will leave you craving more with the sight of these four mouth-watering sweets! You no longer have to resist the temptation of chocolate and ice cream! Don't forget to put a cherry on top!
---

Ice Cream Checks
Click see deliciously mouth-watering ice cream on cool personal checks from CheckAdvantage!