Jelly Beans Checks
Order Jelly Beans personal check designs online in a variety of tasty styles. Bust out a burst of colorful candy flavors every time you write a check! These Jelly Bean checks can be used with any U.S. bank checking account.
---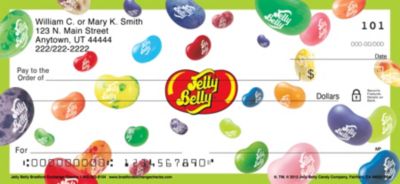 Jelly Belly Checks
Show off a variety of tastes every time you use these Jelly Belly personal checks from Bradford Exchange. Four alternating check images feature playful designs of colorful patterns created by different Jelly Belly flavors.
Matching Jelly Belly address labels and checkbook cover also available!
---

Jelly Beans
Enjoy a little sweet without the guilt with our Jelly Beans Personal Checks featuring colorful pictures of your favorite bean! Did you know that jelly beans take anywhere from 7-21 days to make just one single jelly bean? Wow! Jelly beans are about the same size as a newborn kangaroo at birth!
---