Pie Checks
Serve up a slice of fresh fruit pie with every check you write! Order Pie personal check designs online in a variety of tasty styles. These Pie checks can be used with any U.S. bank checking account.
---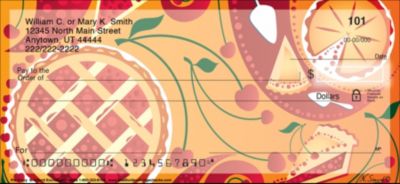 Pie Crazy Personal Checks
Are you an avid pie lover always ready to bake or eat your favorite dessert? Indulge your taste buds in mouth-watering fruity goodness with these exclusive fruit pie checks from Bradford Exchange Checks. Four custom designs feature different types of scrumptiously delicious fruit pies illustrated in fun and vibrant colors by artist Nadia Simard. Enjoy delightful depictions of apple, cherry, blueberry, or strawberry and raspberry fruit pies!
---

Pie Recipe Checks
Delicious pies and their special recipes are featured on this unique personal check design. Click to view them!
---

Slice of Pie Personal Checks
Click to view delicious pictures of pie on unique personal checks from CheckAdvantage!
---