Soda Checks
Order Soda personal check designs online in a variety of tasty styles. These Soda Pop checks can be used with any U.S. bank checking account. Serve up a bottle of cold refreshment every time you pop open your checkbook!
---

Soda Bottle Checks
This refreshing personal check design pays tribute to old-fashioned soda. Click to see them now!
---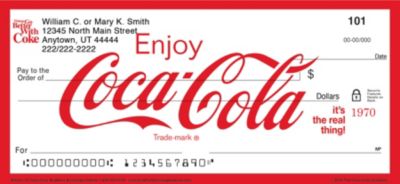 History of Coca-Cola Personal Checks
These checks feature 8 different Coke designs, each one representing a decade from 1910 to 1980 of Coca-Cola logos, graphic icons and ever-popular slogans and tag lines.
---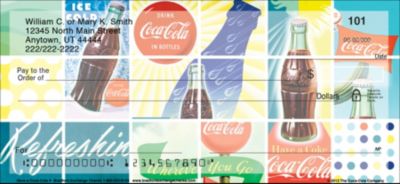 Have a Coca-Cola Personal Checks
Showcase your passion for one of your favorite beverages every time you use these retro Coke checks from Bradford Exchange Checks. These checks feature a colorful retro flair Coke design in a fun blocking pattern with the iconic Coca-Cola bottle shape and famous logo.
---