Sushi Checks
Order Sushi personal check designs online in a variety of tasty styles. These Sushi checks can be used with any U.S. bank checking account.
---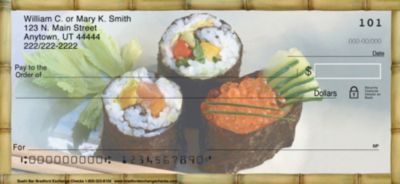 Sushi Bar Checks 4 Images
Indulge Your Love of Sushi Any Time with These Sushi Bar Checks - Sushi is more than food. It is a work of art, both visually and for your palate! And with so many varieties and variations, the hardest and best part may be selecting what kind of sushi to sample first. Now you can delight in your love of this Japanese favorite with these Sushi Bar checks. You'll enjoy four unique designs showcasing maki sushi (rice and seaweed rolls with fish or vegetables) and nigiri sushi (rice topped with fish). These sushi checks from Bradford Exchange Checks, feature beautifully photographed sushi that is artfully displayed and framed in a bamboo border. You'll get hungry just looking at them!Plus, you'll find these sushi designs are as practical as they are beautiful. Brought to you exclusively by Bradford Exchange Checks, they're expertly re-created with premium-quality check printing. Don't miss the chance to indulge in the delicious beauty of your favorite food any time you like - get your Sushi Bar checks as soon as possible! Order now! Pricing shown is for 2 boxes of Singles.
---

Sushi Roll Checks
If you like to dine on sushi, you'll love these fun personal checks. Order today and save!
---

Mr. Sushi Personal Checks
4 different images of this cartoon character fish.
---