Tea Checks page 2

Little Tea Pots Personal Checks
Little Tea Pot Personal Checks - I'm a little tea pot, short and stout! You're sure to get all steamed up with these little tea pot personal checks! These four playful scenes will leave you shouting for more!
---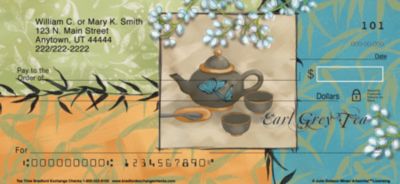 Tea Time 4 Images
Tea Pot Checks Celebrate Four Delightful Flavors - Warm and soothing, there's nothing like an aromatic cup of tea! Celebrate your inner calm with these elegant teapot personal checks from Bradford Exchange Checks. Featuring designs by artist Julie Dobson Miner, each pattern is a delightful blend of muted colors and floral accents with a beautiful image of a teapot and teacups and the name of a favorite flavor. Four gorgeous designs celebrate Green Tea, Earl Grey Tea, Chamomile Tea and Herbal Mint Tea, each on a striking collage of russet, green, blue and chestnut brown.Plus, you'll find these teapot personal checks are just as practical as they are beautiful. Brought to you exclusively by Bradford Exchange Checks, they're expertly re-created with premium-quality check printing. Don't miss this opportunity to delight in this heartwarming celebration of your favorite beverage. Get your Tea Time personal checks as soon as possible! Order now! Pricing shown is for 2 boxes of Singles.
---

Teapot Checks
Take a look at how these unique teapots make an artistic set of personal checks. Order yours and save!
---

Vintage Coffee, Tea Or Me Personal Checks
Take a break and relax with one of delicious vintage coffees and teas! These checks are sure to bring us back to a time when we took more space to relax and to do what is important in this world. Cheers!
---

Sea Of Tea Personal Checks
Had enough of the current way of politics? Throw a tea party! Pour out the old and in with the new. Don't put up with what you don't believe in, enjoy and share this Sea of Tea with every check you write!