Vegetable Checks page 3

Green Veggie Checks
Crispy green and delicious - let these fun checks remind you to eat your vegetables!
---

Pepper String Checks
Click to see a variety of bell peppers, jalapeno peppers and red peppers featured on a colorful check design. Get yours today!
---

Fresh From The Garden Personal Checks
Anyone with a green thumb will find these garden themed personal bank checks irresistible. This four series set of personal bank checks are adorned by beautifully colored images of freshly harvested cantaloupe and zucchini. Enjoy the images of freshly cut fruits and veggies every time you cut a check.
---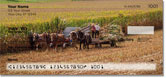 Corn on the Cob Checks
4 different images featuring illustrations of corn cobs.