Wine Checks page 10

Bacca Wine Checks
4 artistic renderings of wine glasses from various angles.
---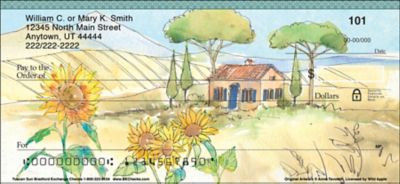 Tuscan Sun Personal Checks
Treat yourself to a daily dose of Tavoletti's intriguing interpretations of life on the farms and vineyards of Tuscany. From tall sunflowers and pretty poppies to simple cottages and sprawling meadows, every inch of these landscape images captures that distinct Tuscan essence. Why wait for your next vacation when you can enjoy an Italian getaway every day with these artistic checks. Coordinating Tuscan Sun address labels are also available.
---

Wine Set Checks
4 images of elegant table setting.