Wine Checks page 5

Grape Harvest Personal Checks
Is there anything more spectacular than the annual grape harvest? Or more delicious? These fun and lighthearted designs are a Wino's dream. They illustrate that it is that time a year again! Crack open a bottle of your favorite wine and share it your friends with these exclusive personal check designs!
---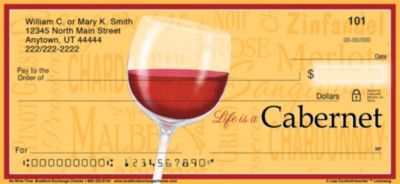 It's Wine Time 4 Images
Indulge in a Rare Vintage with These Funny Wine Checks! - From sparkling whites to table reds, wine is the fruit of fun and merriment! Now, drink up an artistic glass of wit when you use these wine humor checks from Bradford Exchange Checks. Four different designs feature scenes with wine glass art from Lisa Conlin. Plus, each vibrantly-colored check includes a funny saying, Life is a Cabernet , Chardonnay I speak French! , You had me at Merlot , and Champagne is the answer…what was the question? Plus, you'll find these wine humor personal checks are just as practical as they are satisfying. Brought to you exclusively by Bradford Exchange Checks, they're expertly re-created with premium-quality check printing. Don't miss this refreshing opportunity - get your It's Wine Time art checks as soon as possible! Order now! Pricing shown is for 2 boxes of Singles.
---

In The Mood Checks
In the mood for some romance? These wine themed personal checks are certain to make you look classy! Photographed and painted scene variations.
---

Wine & Cocktail Checks
4 whimsical images of a lady of leisure with her cat. A different funny caption on each image.
---

Send More Wine Is Life
Imagine being stranded without any wine, thats what Send More Wine Is Life Personal Checks expresses with four images of being on a boat, beach, or out in the middle of nowhere without any wine left.